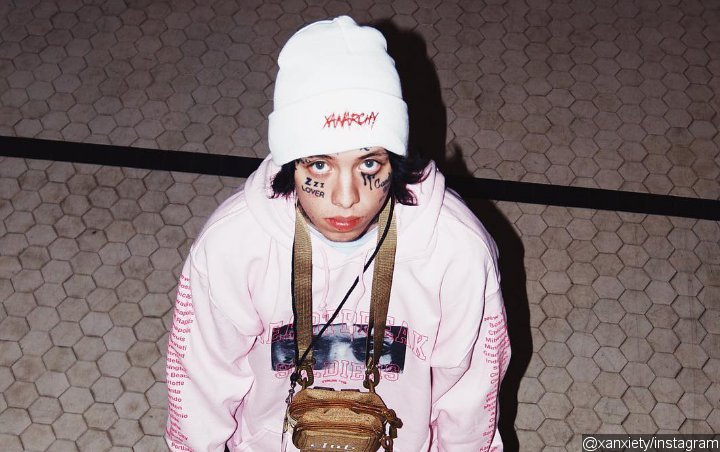 Instagram
The picture, which is shared by his girlfriend Annie Smith, sees the lovebirds lying down together with Xan sporting a bathrobe.
AceShowbiz – Lil Xan and girlfriend Annie Smith are growing more intimate with each other. Annie recently took to Instagram to share a selfie of the pair looking happy together while enjoying their spa. Showing off their affection to each other, the couple were cuddling in the photo.
"Spa day," Annie captioned the photo on Monday, January 7. "Moments like this make me the happiest. thank you for always taking care of me my angel." In the photo, Annie was peeking on the top left corner while Xan was seen dominating the picture as he grinned with a bathrobe on.
Earlier in the day, she posted another adorable selfie of the couple together. In the black-and-white image, Xan could be seen putting his hand near his mouth. While the rapper looked stoic in the image, his girlfriend opted for a cute pout.
Lihat postingan ini di Instagram

Sebuah kiriman dibagikan oleh ANNIE SMITH (@anniiesmith) pada
On Thanksgiving in 2018, Annie also didn't miss the fanfare as she posted a photo of her lying down with a sleeping Xan. She wrote a heartfelt caption for her boyfriend and also sent a Thanksgiving wishes for her followers.
"God chooses people to come into your life to fulfill a purpose," she wrote. "your purpose in my life is to make me the best version of myself. i thank Him everyday for choosing you to be by my side in this life. you are my happiness, my most favorite person, my whole heart. thank you for sharing your life with me and allowing me to love you, always. happy thanksgiving. be thankful for everyone and everything you have in this life because it is so precious."
Annie is very supportive of Xan throughout their relationship, including when he wanted to admit himself into rehab. During his treatment, Annie posted an announcement on his Instagram account on his behalf. "Diego was just admitted into his first treatment," she wrote beside a photo of the rapper. "He loves each and every one of you sending good wishes and prayers to him. We thank you all so very much for all of the love and support you are sending his way."
Now, the "Betrayed" rapper is out of rehab for good as he tweeted on December 16, "Out And Sober," with a heartbreak and highfive emoji. He is currently preparing for his headlining Europe tour which will take place from February 26 to March 27.
It is unknown when exactly Xan and Annie started dating. There were evidences of her videos with the "Watch Me Fall" rapper dated back to October 2018. However, there is no sign of Annie on the rapper's account. Xan previously dated Noah Cyrus.
Source :Aceshowbiz