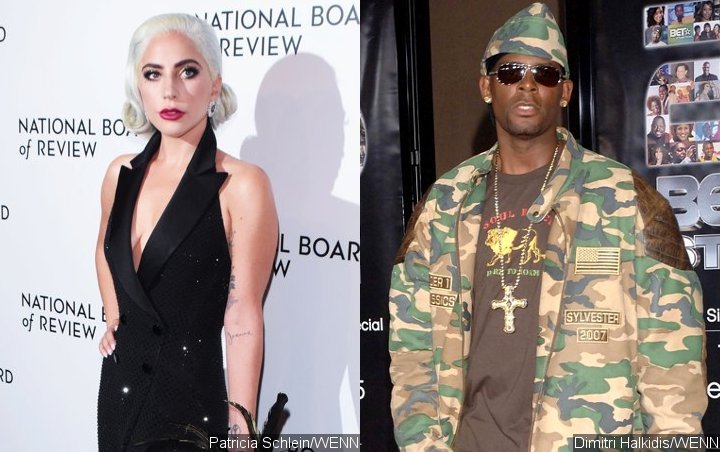 WENN/Patricia Schlein
R. Kelly's alleged victim applauds the 'A Star Is Born' actress for her response to allegations against the troubled singer following the release of docuseries 'Surviving R. Kelly'.
AceShowbiz – Lady GaGa receives applause for her response to allegations of sexual abuse against R. Kelly. The "Million Reasons" hitmaker removed her 2013 collaboration with the troubled singer, "Do What U Want", from streaming platforms following the broadcast of Lifetime docuseries "Surviving R. Kelly".
Now, two of R. Kelly's alleged victims, Asante McGee and Lizette Martinez who appear on the docuseries, have praised GaGa's for her good judgment. "That was really powerful of her," Martinez told Inside Edition.
McGee said that GaGa's action has brought smile to her face and she's so grateful for it. "I actually smiled, I was like, 'thank you!' " she added. Both women believe R. Kelly will face the consequence, as McGee said, "I definitely believe he will face the music. His time is up."
Also during the interview, they shared their opinions on why R. Kelly continues to operate like it's business as usual. "I saw a demon," McGee said. "Just being able to be in the presence of that demon was horrifying. He believes he is untouchable."
Martinez echoed it, saying, "He believes he can get away with anything." On being an alleged victim of the singer, she shared, "I felt like a prisoner and I felt like a sex slave and just horrible. I couldn't look at myself in the mirror."
On Wednesday, January 9, GaGa posted a lengthy statement on Twitter, apologizing for working with R. Kelly in the past. "What I am hearing about the allegations against R. Kelly is absolutely horrible and indefensible," she said in the statement. "I stand by these women 1,000 percent, believe them, know they are suffering and in pain, and feel strongly that their voices should be heard and taken seriously."
"I'm sorry, both for my poor judgment when I was young, and for not speaking out sooner," she added. "As a victim of sexual assault myself, I made both the song and the video at a dark time in my life."
Not only fellow celebrities who have denounced R. Kelly, but also his estranged daughter Joann Lee Kelly a.k.a. Buku Abi. In a long message posted on Instagram, she expressed her sympathy for all of his alleged victims and stressed that she, her mother and siblings never condone any of his negative behavior.
Calling him a "monster," she said she knew R. Kelly isn't a good person as he's also been a terrible father at home. "Going through all I have gone through in my life, I would never want anyone to feel the pain I have felt," she wrote. "The same monster you all confronting me about is my father. I am well aware of who and what he is. I grew up in that house."
Adi, who previously refused to speak against her father, also apologized for not speaking out sooner. She explained that she chose to stay out of the spotlight because it's better for her healing process, and the constant reminders of "how terrible my father is" aren't good for her.
Authorities in Georgia have launched investigation into accusations of sexual misconduct against R. Kelly following the airing of "Surviving R. Kelly". Investigators have reportedly reached out to a number of the women who spoke out against Kelly in the TV documentary to determine if the singer should face criminal charges.
Source :Aceshowbiz