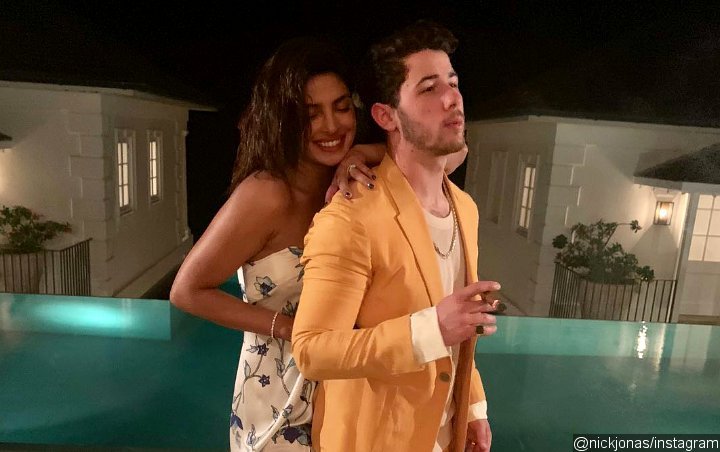 Instagram
The 'Jumanji: Welcome to the Jungle' actor reportedly surprises his wife with the second 'dream' honeymoon which he planned.
AceShowbiz – Nick Jonas has treated new wife Priyanka Chopra to a tropical second honeymoon. On Thursday, January 10, the "Jumanji: Welcome to the Jungle" actor made use of his Instagram account to offer fans a few sneak peek at his romantic getaway with the "Quantico" star.
In one online posting, the one-third of Jonas Brothers uploaded a picture of himself holding a cigar with his wife hugging him from behind. The snap, which is captioned "Mr. & Mrs. Jonas", saw him wearing a yellow suit and matching trousers with white training shoes, whereas his wife opted for a white sleeveless night gown with blue flower pattern.
Lihat postingan ini di Instagram

Sebuah kiriman dibagikan oleh Nick Jonas (@nickjonas) pada
In addition to the "Mr. & Mrs. Jonas" photo, the "Close" singer put out a video on his Instagram Story feed. In it, the 26-year-old captured the moment when his wife happily played on the swing before panning the camera over to show off the Caribbean beach.
This tropical getaway came after Nick and Priyanka enjoyed their first in the Swiss Alps. HollywoodLife.com claimed that it is a surprise trip planned by the "Burnin' Up" singer. "Nick surprised Priyanka by whisking her off on a second honeymoon earlier this week. Right now they're having a romantic beach holiday, just the two of them in the Carribean and it was all Nick's planning," a source said.
The source explained that while Priyanka was in charge of their wedding, Nick got to plan the honeymoon. "Nick's a serious perfectionist so when he got the job of planning the honeymoon he was determined to make it the best one ever," the source spilled. "But more than that he wanted to show Priyanka just how special she is to him and he totally knocked it out of the park by giving her not one, but two dream honeymoons."
Source :Aceshowbiz