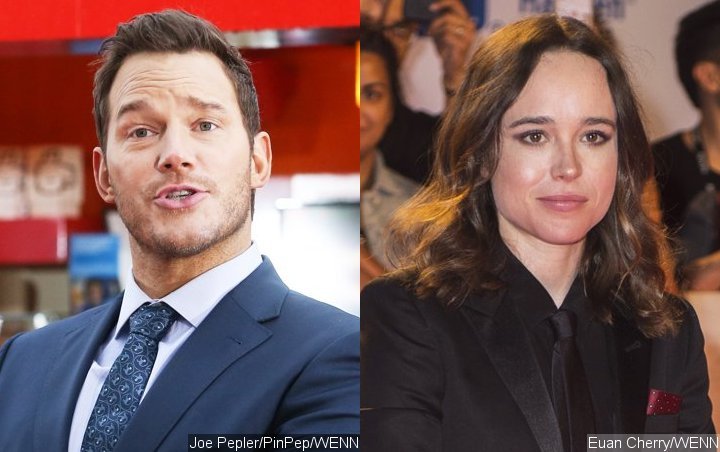 WENN/Joe Pepler/PinPep
The 'Jurassic World: Fallen Kingdom' actor denies that his church hates LGBTQ people, writing on Instagram Stories, 'Nothing could be further from the truth.'
AceShowbiz – Chris Pratt has responded to Ellen Page's claim that he attends an "anti-LGBTQ" church. Taking to his Instagram Stories on Monday, February 11, the actor denied that his church hates people with certain sexual orientation and claimed that the church embraces people from all backgrounds.
"It has recently been suggested that i belong to a church which 'hates a certain group of people' and is 'infamously anti-LGBTQ'. Nothing could be further from the truth," he wrote. "I go to a church that opens their doors to absolutely everyone."
Revealing how the church reacted to his divorce from Anna Faris, Chris continued, "Despite what the Bible says about divorce my church community was there for me every step of the way, never judging, just gracefully accompanying me on my walk. They helped me tremendously offering love and support. It is what I have seen them do for others on countless occasions regardless of sexual orientation, race or gender."
He added, "My faith is important to me but no church defines me or my life, and I am not a spokesman for any church or any group of people. My values define who I am. We need less hate in this world, not more. I am a man who believes that everyone is entitled to love who they want free from the judgment of their fellow man."
The "Guardians of the Galaxy" hunk quoted a passage from the Bible, "Jesus said 'I give you a new command, love one another.' " He explained, "This is what guides me in my life. He is a God of Love, Acceptance and Forgiveness. Hate has no place in my or this world."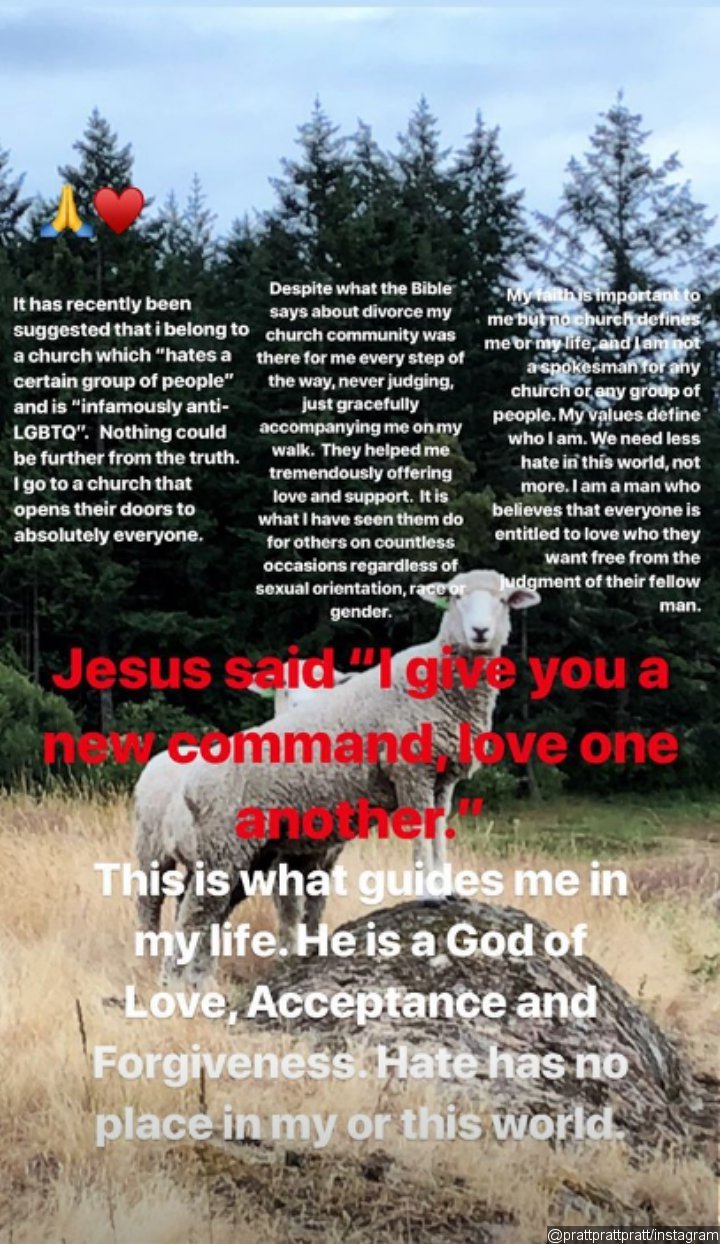 Chris Pratt posted an elaborate statement explaining that his church doesn't hate LGBTQ people.
Ellen previously raised question about Chris' support for the church following his interview on "The Late Show with Stephen Colbert". The "Inception" actress asked on Twitter, "Oh. K. Um. But his church is infamously anti lgbtq so maybe address that too?"
She added in another post, "If you are a famous actor and you belong to an organization that hates a certain group of people, don't be surprised if someone simply wonders why it's not addressed. Being anti LGBTQ is wrong, there aren't two sides. The damage it causes is severe. Full stop. Sending love to all."
Ellen's accusation was perhaps based on reports surfacing in January that the religious institution was "anti-gay." It was unearthed that senior pastor Carl Lentz said in a 2015 GQ interview that he considers homosexuality a sin and would never allow an openly gay member to hold a church leadership position.
The church has not responded to the anti-LGBTQ accusation.
Source :Aceshowbiz