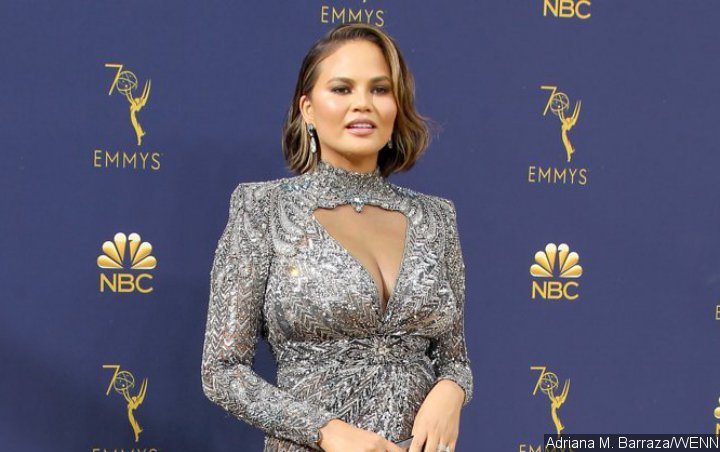 WENN/Adriana M. Barraza
The 'Lip Sync Battle' co-host hints that they may have infected their guests Jameela Jamil, Jesse Tyler Ferguson, Justin Mikita and Neal Brennan with the same illness during the party.
AceShowbiz – Chrissy Teigen and John Legend's family fell ill after a party over the weekend. The couple did not attend the Grammy Awards which was held at the Staples Center in Los Angeles on Sunday, February 10 this year, and they decided to host a watch party at their house.
The 33-year-old model and the Grammy-winning musician had some of their celebrity friends, namely Jameela Jamil, Jesse Tyler Ferguson, Justin Mikita and Neal Brennan, come over to watch the live ceremony. But it appears that the household has gotten them all sick.
Taking to her Twitter account on Monday morning, February 11, she jokingly wrote, "I am declaring a quarantine on this household. Just a group of sickly people who should not infect others." She added with an apology to their guests, "sorry @jameelajamil @jessetyler @JustinMikita @nealbrennan maybe take some zicam."
Fortunately, Jameela appeared to be doing just fine after hanging out with Chrissy and John at their house. While she didn't directly respond to Chrissy's tweet, the British actress updated her Twitter account on Monday with pictures from her appearance at the TCA press tour to promote her upcoming TBS show "The Misery Index".
Justin, meanwhile, replied to Chrissy's tweet with a mask-wearing emoji.
Chrissy previously shared videos of their guests at the watch party. In one clip, Jesse was seen enjoying a lollipop that reminded him of a toiler puncher. "Jesse eating out of the toilet," Chrissy captioned it.
Chrissy has since moved on from the Grammys as she enjoyed watching the performance of a sand artist, Kseniya Simonova, on "America's Got Talent: The Champions" on Monday night.
"THIS SAND ARTIST ON AMERICA'S GOT TALENT IM GONNA CRY I DIDNT KNOW THIS WAS A THING," she raved about the contestant. She added, "what. the hell. she is amazing."
Source :Aceshowbiz