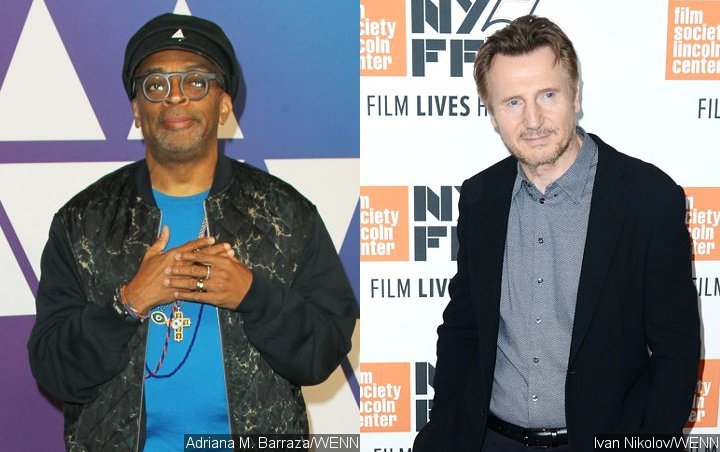 WENN/Adriana M. Barraza
When asked to weigh in on the backlash faced by the 'Cold Pursuit' actor, the 'BlacKkKlansman' director takes note on 'a crazy, crazy bizarre world that we live in.'
AceShowbiz – Spike Lee has been left baffled by Liam Neeson's revelation that he had violent thoughts about killing a black man.
The 66-year-old faced a massive backlash earlier this month after telling U.K. newspaper The Independent that he once roamed the streets with a cosh, wanting to kill a "black b**tard" after someone close to him was raped by a black man years ago.
In an interview with "The Andrew Marr Show" ahead of the BAFTAs on Sunday, February 10, Lee confessed he struggled to understand why the Northern Ireland born actor made the comments.
"I don't understand what he was doing. It's a crazy, crazy bizarre world that we live in," he said. "I don't know why he did it, but he did it, so he's going through it now."
"People have to understand history… Who knows how many innocent black men have been murdered, castrated, lynched or harmed or spent time in jail only because a white woman said: 'That black man raped her?'," Lee fumed.
He later wondered if Neeson just needed to get the incident off his chest.
"I don't know, but I heard he was promoting this new movie that's about revenge," Lee said, referring to the actor's latest movie, "Cold Pursuit". "I know he's Catholic – was this a form of confession? I don't know, you'd have to ask him."
Lee, who scooped the BAFTA for Best Adapted Screenplay on Sunday for his critically-acclaimed movie "BlacKkKlansman", added that he once considered casting Neeson for a project, but the movie was never made.
"I tried to cast him one time. And so far, we haven't got the money for that film but one day we will. But I don't think I'll be going back to him. He's too old now. That was a long time ago," the 61-year-old explained.
Source :Aceshowbiz